Just who are we anyway!
Here for your enjoyment of course!
About SuperTrike
The SuperTrike™ V8 powered custom trike is a product of Images 'N Iron, a custom metal fabrication company with a long history in custom motorcycle fabrication. We are based out of Las Cruces, New Mexico in the heart of the old Mesilla Valley of Southern New Mexico.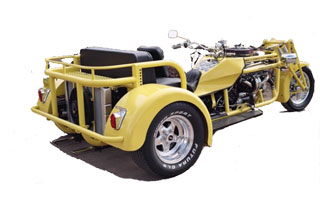 SuperTrike™ V-8 powered custom choppers are built with manufacturing excellence as a goal. As with everything we build and fabricate this manufacturing philosophy combined with our commitment to offer the best product possible makes our SuperTrike™ the cutting edge in V-8 powered three wheel touring cycles. We are totally committed to maintain this cutting edge as new technology, materials and methods become available.