Own a piece of history and forge the future!
Limited time offer *
SuperTrike is up for sale...
After years of pushing out one of the world's most unique motor toys, The SuperTrike legacy is up for sale. This is your chance and a unique opportunity to continue on the legend and take the SuperTrike™ to the next level.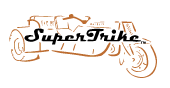 At offer is a complete a complete turnkey opportunity. The current owner will work with and offers to support the new owner at various levels... If you are interested in pursuing this opportunity, please contact us for more information.
Complete turnkey opportunity
Ten complete chassis and machined components
All machined components for ten chassis ready to go
Inclusive of all equipment required
Tig welder
Plasma cutter
Tube bender
Tube notcher
Welding Jigs
Custom Trike Trailer
Established company name, logo, and website
Reputation as a leader in the industry
Plans and intellectual copyrights
10 year statement of non compete clause from current owner
Added Bonus: Beer cooler with 30 pack of Coors or Miller light
Delivery of equipment available
* Be sure to act now as this offer won't last forever!