The ultimate V8 powered touring trike!
It will kick your ass into gear!
SuperTrike V-8 Trike Kits
If you are looking for the ultimate in three wheel V8 power, you have a choice, build it yourself with one of our pre-assembled Supertrike Rolling Chassis Trike Kits, or just sit back and watch us build you the ultimate touring V8 bike. Select from below to learn about each Trike Kit.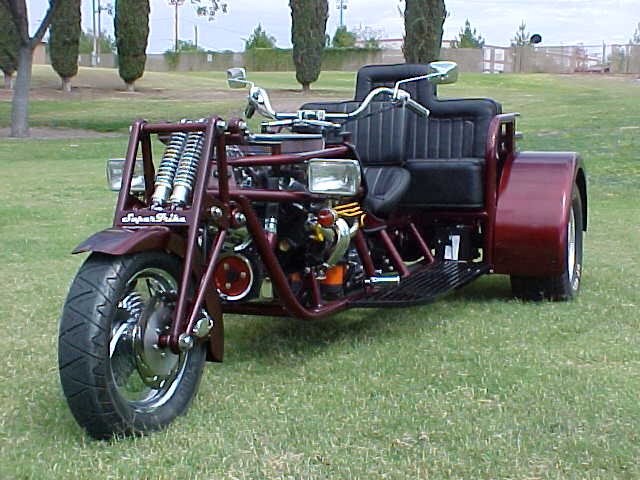 Complete Turnkey
$32,499 US
Deposit: $14,000 US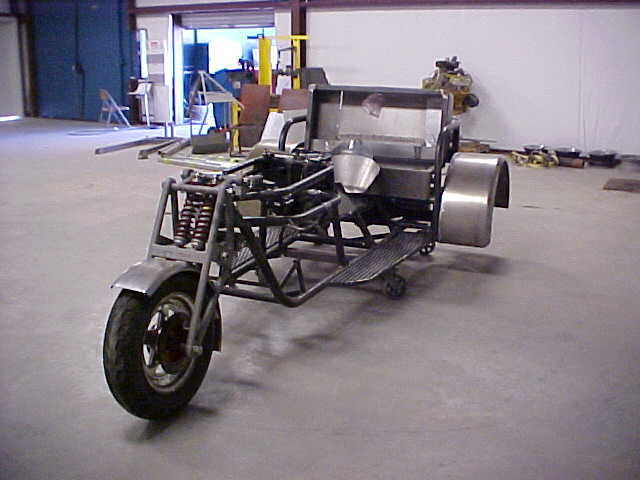 Rolling Chassis
$18,999 US
Deposit: $9249.50 US
Every V8 Supertrike Custom Trike Kit Includes...
Proprietary mechanical linkage steering system.
Proprietary front end with dual adjustable coil over shocks.
Four link suspension with gas shocks, air bags and pan hard bar.
Saddle style driver's seat with removable back support.
Brake pedal for front and rear brakes.
Removable upper frame component for ease of maintenance and kit building.
Complete V8 Trike Turnkey Kit
DOM tube frame
Girder front end with tire and Weld aluminum custom wheel
Dual front disc brakes with 11.5" rotors and handle bar control
Front suspension with dual adjustable Carrera chrome coil over shocks
Custom front fender and brackets
Dual rear disc brakes with foot pedal control and billet aluminum brackets
Mechanical steering system, with dual linkages, from rear billet aluminum bell crank forward with aluminum turn buckles and billet aluminum rod links
Rear detachable bumper
Battery box and battery
Rear cargo space decking
Foot pedal brackets, foot pegs and floor boards
Rear Ford Mustang 5 lug axle assembly with Air Lift air bags, gas shocks and 1" hexagon billet aluminum four link suspension with heims joints
Rear custom fenders and brackets with wiring conduit
Rear tires and Weld ProStar aluminum wheels
Standard handle bars and controls
Standard motor mount
Standard transmission mount
Marine quality vinyl upholstered driver seat and removable back support
Marine quality vinyl upholstered rear seat combination with storage compartment
Aluminum radiator with 2700 cfm electric fan
Aluminum transmission oil cooler
Custom lighting and wiring harness
Tombstone rear lights, bullet style front turn signal lights and chrome rectangular halogen front driving lights
Custom dashboard with Stewart - Warner 6 gauge electric instrumentation mounted on an aluminum dash insert
GM 350 V-8 249 hp crate engine with chrome dress up kit including chrome headers
Holley Street Avenger 670 cfm carburetor and matched aluminum intake manifold
Steel braided brake, fuel and transmission oil cooler lines
Reconditioned GM 350 automatic transmission with billet aluminum shifter
Powder coat paint
Completely assembled and ready to ride
Available colors are: red(2), blue, champagne, black or white
Optional custom powder coat paint - call for colors and prices
Rolling Chassis Custom Trike Kit
DOM tube frame
Girder front end with Weld aluminum custom wheel, tire, brake assembly brackets and aluminum spacers
Front suspension with dual adjustable Carrera chrome coil over shocks
Custom front fender and brackets
Dual rear disc brakes, pedal through master cylinder and billet aluminum brackets
Mechanical steering system, with dual linkages, from rear billet aluminum bell crank forward with aluminum turn buckles and billet aluminum rod links
Rear detachable bumper
Battery box
Radiator, wiring and air compressor tabs
Lights, horn and ignition switch mounting brackets
Rear cargo space decking
Foot pedal brackets, foot pegs and floor boards
Rear custom fenders and brackets with wiring conduit
Standard motor mount
Standard transmission mount
Rear axle assembly with Air Lift air bags, gas shocks and 1" hexagon billet aluminum four link suspension with heims joints
Blank driver seat and removable back support
Blank standard 16 gallon fuel tank and rear seat combination with storage compartment with fuel pump and fuel filter tabs
Blank dashboard with an aluminum instrument dash insert
Standard light mounting brackets
Optional powder coat paint-call for colors and prices
Measurements & Misc
Width: 6'-2"
Length: 11'-8"
Wheel Base: 8'-8"
Height: 3'-6"
Bottom of driver's seat to ground: 1'-6
Weight: 1900 lbs. (approximately)
Weight on front end: 780 lbs. (approximately)
Gas tank: 16 gallons (approximately)
Rear tires: 295x15x50 with Weld aluminum ProStar wheels
Front tire: 195x15 with Weld aluminum wheel
DOM tubing on all frame components (.125 wall thickness)
Standard Mustang rear end with 5 lug pattern
Mechanical linkage steering system with billet aluminum components
Girder style front end with dual adjustable Carrera chrome coil over shocks
Dual front and rear disc brakes
GM 350 crate engine (249 hp)
GM 350 reconditioned automatic transmission